Trends in Video Advertising
Reading Time:
4
minutes
With the world turning digitally virtual lately, video marketing possibilities are expanding and are expected to rise in the near future. This booming industry owes all credits to the advent of new platforms, formats, and technologies, and a social pandemic we all are a part of now. As we close in on this year, nearly 86% of marketers are using video content to advertise, educate, and entertain.

The Numbers Says It All
With everything around the world happening online, the consumers of digital content have risen enormously in 2020. According to eMarketer, more than 39% of the world's inhabitants will become consumers of digital video content by 2023. If that will be the case, then imagine how much investment will be made in digital content. Statista, in their report, concluded that digital video advertising spending would amount to $37,970 million by the end of 2020.
Top Trends in Video Advertising
Advertising is a dynamic industry; newer technologies and trends make their place in the sector quite often. Some of these ongoing trends include: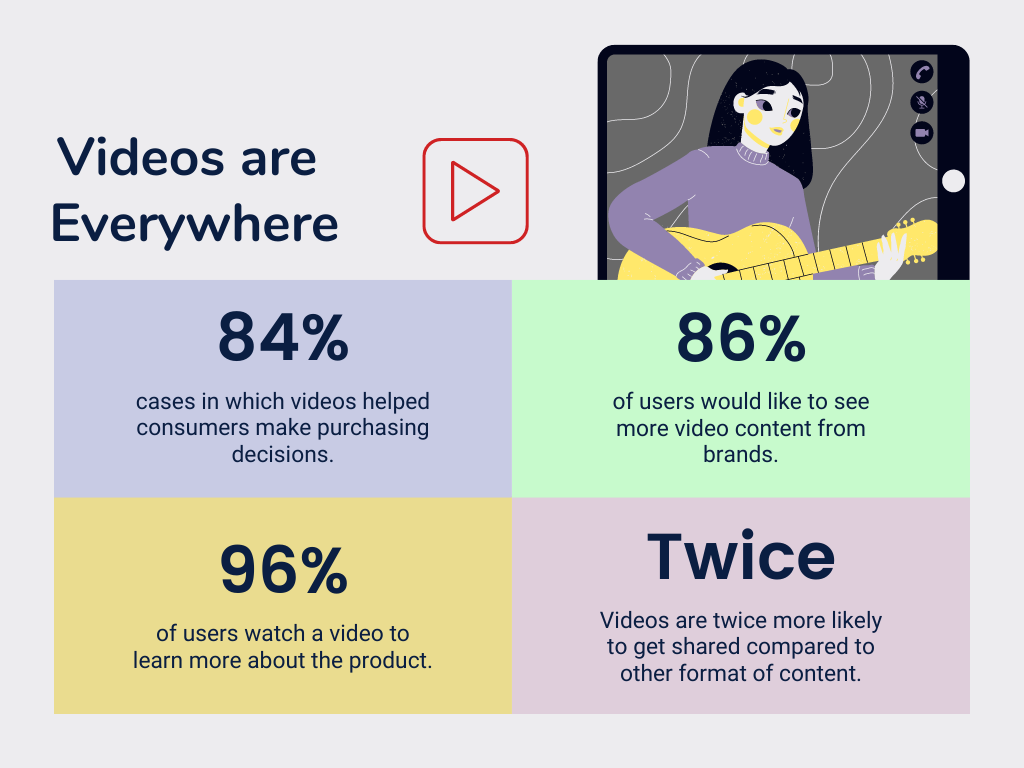 Short Video Ads: Consumers are exposed to a lot of digital content every second; this means they will watch an ad only if it is relevant, attention-grabbing, and valuable. Because of this, the amount of time people spend watching ads has declined drastically. These trends are leading brands to adopt short video ads aiming at serving short attention spans. These ads present a creative challenge for marketers to tell a brand story in under 15 seconds.
A very creative example of a short video ad is:
OTT Advertising: Advertising through OTT platforms offers benefits much higher than that of traditional commercials. OTT allows marketers to target their audience well, utilize ad insertion, and run advanced analytics to create shorter and more personalized ads with the help of programmatic ads. Viewers watching these ads from an OTT streaming device can't skip or install an adblocker; because of this, video completion rates are significantly higher for OTT advertising than in-browser video ads. This technology would maximize ad campaigns' potential and ensure that viewers see the ads that match their interests. Owing to its benefits, OTT could rise to be one of the most lucrative channels for modern advertisers in the future.
Facebook in-stream ads: In-stream ads are 5-15 second videos placed directly within live and on-demand videos, specifically designed for mobile devices. These can be optimized for video views, brand awareness, app installs, reach, or engagement, just like regular Facebook Ads. The feature has proven to be extremely useful: 70% of ads are watched to completion. They, like, OTT ads, are non-skippable and maintain an average on-target rate of 89%. Lately, Facebook rolled out a premium option for in-stream advertisers: In-Stream Reserve, which ensures placement in top-performing videos from high-quality publishers and creators.
Cinemagraphs: The first to use and popularize this technique were photographers Kevin Burg and Jamie Beck based in New York. Cinemagraphs garner more interest than photos without the involved process of the video. It calls for a lot of creative photos, brought together to form a motion graphic video. This has gained momentum recently and is being used in the digital advertising industry.
User-generated content: Customers are no longer impressed with sale centric content and ad. They want to engage and interact with brands they feel emotionally connected to. The best way to build that trust and relationship is by being transparent and telling a story in the ad. Brands who find ways to include their fans by following a people's marketing strategy create a feasible community where people are excited to be a part of it. These user-generated content can take the form of motion graphics, video, or GIFs.
An example of UGC is:
Increase in ad spend: In 2018, brands spent over $90 billion on video ads. According to a report by Forrester, that number is expected to hit $102.8 billion by 2023. The explosion of video ads supplemented with advanced analytics has made video marketing an essential part of any digital marketing plan. Mobile video advertising is seeing a significant increase in consumer absorption of digital data. Advertisers spent over $30 billion on only mobile video advertising in 2018. Larger budgets and optimized ads could be the perfect amalgamation for capitalizing on video ads.
Mobile-first advertising: Smartphone users have immensely grown in the last decade, where consumers rely on their phones for news, shopping, and a significant portion of their entertainment. This has led brands to make their websites, advertisements, and even services mobile-friendly. Creating this interactive user experience is essential when nearly half of all online transactions occur on smartphones. Additionally, mobile phones have also started to impact the way we create video content. Vertical stories and videos by Snapchat and Instagram have gained popularity amongst the masses. Using this vertical format enables marketers to engage with users by shoppable stories, IGTV, and now Reels on Instagram.
Wrapping Up
Marketing and video advertising are here to stay and evolve. The trends and algorithms of digital platforms keep on changing. It is by keeping in the loop with all the developments; the Video Advertising stint can be made successful, user friendly, and engaging. The growth of programmatic video advertising has led to the showcasing of user-preferred ads, further helping in sales. These ads also help increase reach, bring new products to the market, raise brand awareness, and increase consumer interest in products. Hence, it is imperative to learn and unlearn in this field of advertising and marketing to make the best use of the technology available.