Outstream Video Advertising: The Definitive Guide
Reading Time:
5
minutes
The online advertising industry, like any technological industry, is constantly changing and upgrading to provide a great experience for web visitors while improving the revenue model for publishers. Outstream video advertising is one of those big changes. Within the last two year, it has been seeing rapid growth both in terms of publishers opting for it and the revenue that it has been generating.
Today, most people have already seen Outstream video ads on a website without even knowing what they are. However, Outstream video ads, or most commonly known as native ads (because of the placement of the player in between the content, making it native to the website), are the ads that pave a way to harness the power of video advertising for the publishers who are not making video content of theirs.
Outstream Video Advertising outshines them all
With more than 90% of marketers going towards video advertising in the year 2018-19, there was soon a realisation that the return on self-curated video content is very less and not that easy. With the help of Outstream ads, publishers were relieved of the hassle of making video content and were able to get increased returns.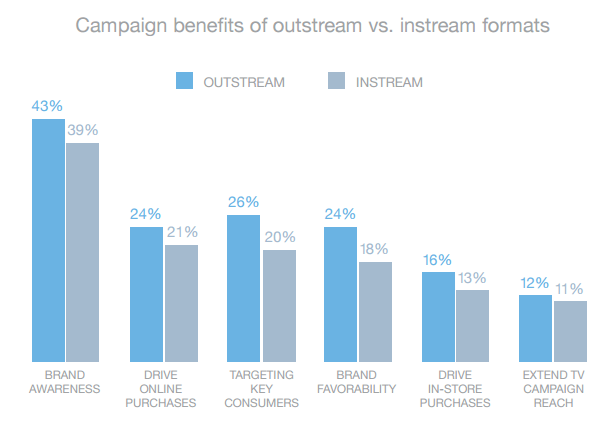 While the types of Outstream video advertising has always been up for debate, one thing is for sure, video formats have been preferred by all. According to a report from HubSpot Research, more than 50% of consumers want to see videos ads from the brands, more than any other medium.
Outstream video ads have also removed the dependency of publishers to own or make a video player of their own. As these ads are literally out of any stream, they are easy to implement on every page and show as a part of the content on the website (mainly editorial articles).
As more and more people are moving towards a handheld device for the internet, Outstream ads are very helpful in improving the design of video ads which were originally very difficult to display on mobile devices. This has proved useful to everyone involved, be it publishers whose websites design is now more fluid, or be it the advertisers, who can reach more and more people without investing the additional money for different size devices.
You can always do better
While Outstream video ads have improved the click-through rate by 7.5 times the actual rate gotten by the pre-roll ads, the publishers need to remember the line between ads and annoyance. More than 66% of the US population says that they are very annoyed with video ads starting without being mute.
"If ads do not integrate well it can lead to ad blindness, or worse annoyance, and adblocking. As an industry, we need to come together and come up with a better experience."

Paul Muret
This is where the native behaviour of Outstreaming shines through. A well-personalised Outstreaming video position and format will be easy on the eyes of the visitor. It will also bring in more CTR and improve the quality of the design by being less intrusive and more as a part of the website.
According to Huffington Post, major brands are rapidly moving from display banner ads to native Outstream to grow brand awareness and engagement. They have multiple reasons to do so, some of which include the fact that:-
Native ads help in getting 308x more attention as compared to their banner counterparts. This is mainly because more and more people consider videos to be a more interactive medium than just text or photo.
Engagement with native ads is 53% more likely than with banner ads, which results in more click-through ratios and improved recalls of brands as well.
With the introduction of different types of native video players, it is getting clearer and clearer that native advertising is one of the biggest assets for a publisher and a great way for advertisers to get more conversions.
Examples of Outstream Video Advertising
As Outstream video advertising services are gaining more and more acceptance from the advertisers and revenue for the publishers, there is an influx of different types of native advertising. Some of the prominent ones are mentioned below
In between the content
This is the most basic and most prevalent type of Outstream player used by publishers worldwide. The player is shown in between the editorial/pictorial content. The location is specified by publisher and advertisers to get more revenue and conversions respectively.
This fluid player is natively designed for websites and is displayed to not hinder the user experience for both mobile and desktop users. In recent times, it is generally and exclusively used just for handheld devices as it perfectly blends with the small screen dimension, while being in a prominent position for catching eyeballs.
Floating player
This is one of the more beautiful examples of native Outstream video advertising. As the name suggests, this type of native player is placed in between the content but floats at the side of the screen when scrolled above or below its original location.
This one is gaining popularity, majorly on desktop websites, within the advertisers and publishers due to its increased screen time. This leads to more conversions and reaches for the advertiser and more revenue for the publisher.
However, the placement of such players can be very tricky as user experience is of utmost importance. An annoyed user is not good for neither the publisher nor the advertiser. Now, publishers can also decide the size of the floating player, the side on which it will float and the option to close it, which makes it very user friendly and engaging at the same time.
Engagement unit
One of the newest in the Outstream video advertising umbrella, this player incorporates video advertising's power while keeping the user engaged with the same website through re-circulating publishers' content. The most common format of such a unit is "Story Player", which shows an article in a small bite-size 10-second format while playing video ads in small intervals.
The engagement unit showcases the user with different articles related to the article that the user is currently reading. This ensures a major increase (Upto 5X) in the readership. It is also a great way of earning more revenue through each user for the publisher.
The latest report from MarketingLand shows that the Click Through Ratio (CTR) of Outstream ads is 2.5X more than the banner ads. It is no wonder that eMarketer reported that 77% of publisher agencies and 70% of advertisers prefer Outstream ads.
Conclusion
But when all said and done, these numbers, along with the stats given above clearly show that there is a rapid and steady increase in the inclination towards Outstream ads. It is a joint effort of publishers and advertisers to ensure a balance between revenue and experience. This will help them both to increase their revenue while keeping loyal traffic that is interested in the content as well as the advertisements presented with it.
We at VDO.AI are committing to create brand-safe native solutions. You can simply select which native solution will be best for your website or for showcasing your product/service. Reach out to us via Skype!
Be a part of our extended family and receive product updates, company news and other promotional updates by clicking Subscribe