OTT and CTV Trends: A VDO.AI Study
Reading Time:
4
minutes
Introduction
George Henry Newman said, "Growth is the only evidence of life", and I think he said it aptly. We are seeing technology grow and develop multifold in the past few years. This is quite evident in terms of how we are defining entertainment for ourselves. With the expansion of IoT, platforms like OTT and CTV have surrounded our lives more than ever before. OTT stands as "Over The Top" and is referred to as the streaming service that delivers content over the internet and uses the streaming service over the top of another platform. A popular example of this is Netflix and Amazon Prime."Connected TV" aka CTV is coined for the Television that is connected with ethernet and has internet access. The television can then be connected to other devices like your mobile phones. This has decreased the reliability of viewers on cable and satellite companies. People can now watch anything which interests them whenever they want, whether or not it is streaming on television channels. This has led the dynamics of the industry to change many folds. It's a relatively new technology in the Indian Sub Continent, however, is very popular in the US and UK since the 1999s when Netflix started its video online subscription model showcasing the plethora of genres and shows.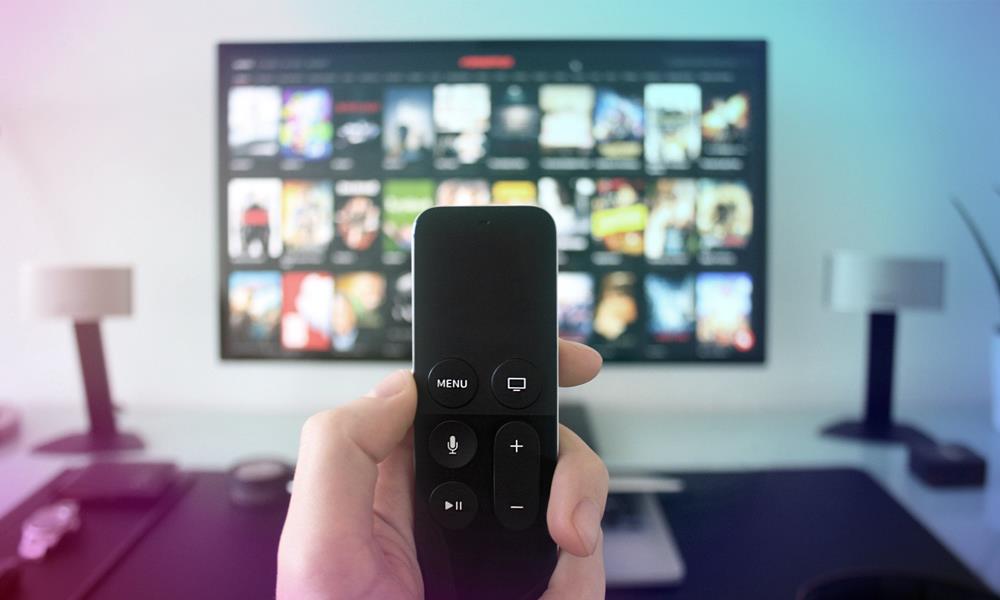 The Popularity of CTV and OTT
CTV and OTT grew in popularity when streaming services were enabled at the subscribers' homes around 2007. This is also the time when the rage for watching movies and TV shows directly at our homes began and hasn't stopped ever since. Netflix gaining access to streaming services has been a hallmark in this industry. People now believe OTT is synonymous with Netflix. Hulu was the second OTT platform to enter the market and emerged as a competitor of Netflix. The popularity of CTV and OTT began to spread in India during the year 2015 when TVF (The Viral Fever) started launching its web series and also became a player in the OTT industry later on. After this, many OTT platforms like Hotstar, Amazon Prime, Netflix, SONY Liv, and Zee 5 have come up with all genres of web series and OTT-based movies that made Indians pull up the record of highest viewership and subscribers in 2020.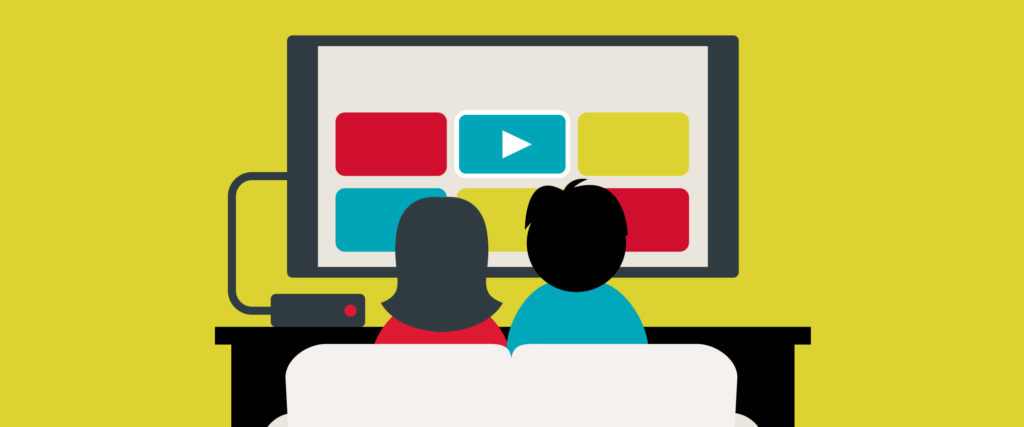 Observing the Trend of CTV and OTT over the Years
The industry is on a path of continuous evolution and growth. It has created enormous opportunities for advertisers for their massive growth in picking up advertising solutions, given the fact that they have another room open to establish their brand identity, sell goods/services or just develop a brand recall, i.e. the OTT platforms.
After the onset of the Covid-19, we have seen some drastic changes in the numbers that may have pushed advertisers, publishers, and marketers to focus their ad expenditure on CTV and OTT industry and prepone their shift towards that industry. The world witnessed "reduced spending on Linear TV" by 18%, "overall increased investment in the video" by 14%, "increased testing in CTV as an extension platform" by nearly 14%, "specific budget amount fixing on CTV with its spending increased" by 10-12% in 2020.
Seeing this, advertisers, publishers, and marketers have shifted their gaze and focus on promoting and investing in ad campaigns of the CTV and OTT industry. According to a detailed analysis by VDO.AI, the ad spending on CTV and OTT platforms in 2020 was about $8.6 Billion over just $6.6 Billion in 2019. Looking at the trends and how discussions were going on, VDO.AI predicted that about $11 Billion will be spent in 2021 on ads for OTT and CTV industry and platforms. As the subscribers and viewers are on a rise, the consumers are becoming more aware of CTV and OTT platforms, especially due to the OTT launch of movies and shows in 2020. This growth is attributed to an increase in the number of video content creators, work from home culture giving employees ample time to watch different shows and movies on OTT and CTV. A study conducted by VDO.AI experts concluded that there's a 4X increase in the buying of CTV and OTT subscriptions as compared to decreasing cable connections from March 2020. Digital Marketers, OTT businesses, and AdTech are more inclined to invest in OTT advertising campaigns this year 2021.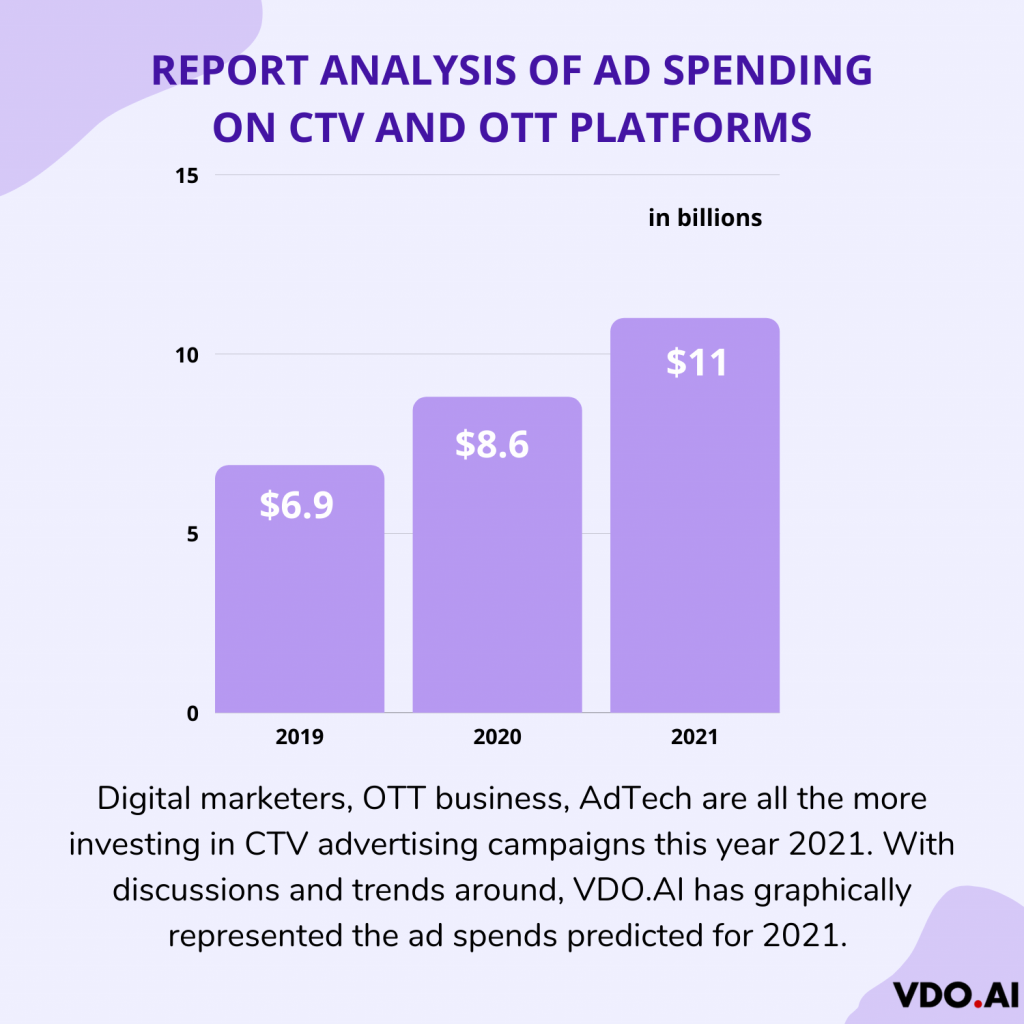 Conclusion
2021 is filled with a lot of prospects and potential for both Ad agencies and Advertisers as well as OTT and CTV industries. With the costs of CTV and OTT platforms going down at nominal rates, we can vouch for an eccentric move in Adtech. Platforms such as VDO.AI help both publishers and advertisers to monetize from their ads and reach the right audience with their in-house ad server and OTT/CTV supported ad units. Want to know more? Reach out to us here, or drop us an email at [email protected]
Be a part of our extended family and receive product updates, company news and other promotional updates by clicking Subscribe.