5 Steps of Generating Ad Revenue from Your Website
Reading Time:
6
minutes
Create and connect, the results will follow!
This quote is the mantra of many entrepreneurs and is a proven time-tested ideology! Creating a website is always fun but monetizing a website is even more rewarding to the appetite. This blog will introduce and guide you through generating ad revenue for your website.
There are three primary techniques to generate revenue from a website:
Affiliate marketing, where you get a share of the revenue whenever your link works as a catalyst to spike up the sales of goods/services.
Ecommerce, targets profits by direct trades of goods or amenities on your site.
Advertising, is the most straightforward approach where you can generate revenue by displaying ads on your website, blog, etc.
In this article we will be elaborating on advertising techniques to breed revenue from a website.
Crafting income from a website involves myriad of ways to transfigure site traffic into tangible online profits. However, each business is prey to different monetization tricks. Using inappropriate advertising style or transparency in user's confidentiality concerns can deteriorate the traffic in the long run, hence it's very vital to have a holistic and sound knowledge of what favors and deters your business. However before diving into this, let's familiarize ourselves with the ways of remuneration while adopting advertising as a strategy.
Methods of Remuneration for Advertising
The three key systems involved in estimating returns from advertising are:
CPM (cost per thousand views): It's the foremost traditional tactic adopted by internet, television, broadcasting, journal, and newsprint ads. This is popularly used by LinkedIn to gauge an ad's performance.
CPC (cost per click): In this prototype, the promoter pays only when a user clicks on the ad. An enormous amount of online advertising is sold via this model.
CPA (cost per action): This approach works on either pay-per-achievement or pay-per-target. Affiliate marketing tracks on this.
Five Best and Fortified Ways of Monetizing Ads
Focus More On Quantity & Consistency Of Content
The most tested and effective way to be in limelight is to be seen and acknowledged. The easiest approach to upsurge income in 2021 is to keep delivering more content and being in the digital space more than ever!
It's not clandestine to understand that the websites which emerges in the top list are the ones who target content quantities along with the quality and yield at a much faster pace than sites that deliver occasional or fewer contents. This is primarily why sequential website creators are inclined to subcontract their work and amplify the content within a stipulated period.
A survey from the 'Performance Chart' indicated that the 10 topmost websites with the maximum profit delivered about 87 content. In comparison, the 10 lowest ranking websites with the slightest or no returns delivered an average of 25 pieces of content in 2019.
The average period that a reader employs on your website is the most crucial metric for any online business. Psychology says, "A reader is more likely to read a complete content if it is categorized as Lagom ". Lagom is a Swedish word that means neither too less nor more, just appropriate. Ezoic's Top Digital Content Trends survey found that 71.9% of publishers said writing long-form content was the most successful tactic for their website growth in 2019. Adding to this, a study suggests on average a write up with 750 -1000 words rank 1st in the most optimal content length followed by 1000-2500-5000 and least by content with more than 5000 words or less than 250 words.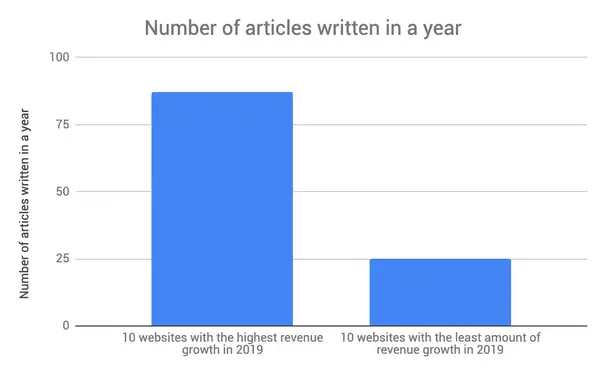 Craft More Audiovisual Content
Among the plethora of available content, it is easier for a user to leave the site quickly if the content is unresponsive or not up to the expectations. These algorithms may even lead to a lower ranking of sites. So how do you attract traffic to your content?
The key is, "An eye for the appetite should first appeal to an eye". A video or audio is more likely to attract potential clients than high-quality lengthy content. The reasons are obvious – a video will save the user's time and also will help to easily grasp or understand the content especially in context to search engines.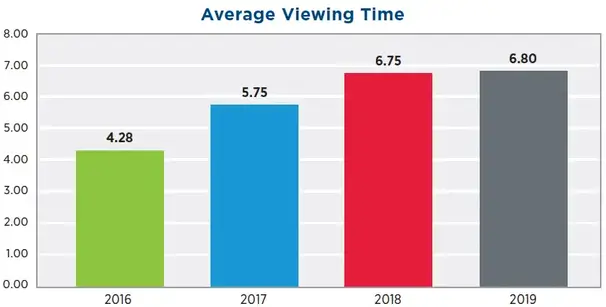 Precisely for the same reasons, in today's day, YouTube channels and Audiobooks are emerging as the most sought trend to attract revenue. This tactic can attract customers to your YouTube channel, but it definitely works wonders for your website as well if you regularly post video content. Additionally, if you're looking for monetizing from your website, video ads are the here to save your drowning revenue!
If you are clueless about how to begin, VDO.AI will lead your pathway on how to become a video publisher.
"The one who is well-known builds conviction faster than others" is a proven fact. Hence the involvement of Ad networks, like VDO.AI can boost the visibility of your website content in leaps and bounds. With a global reach and direct integration with 2000 + leading publishers, VDO.AI can amplify the visibility of content to direct potential customers within the shortest period generating leads and high ranking for your website.
Targeting Engagement Bare Metrics To Amplify Income From Video Ads
How can you improvise the engagement ratio to increase the duration of time spent on your website?
Awareness about the market trends is incredibly vital in identifying the beehive's source. Content engrossed about commercially active updates will always grab potential client's eyeballs and advertisers will also remunerate for ads being run if they're relevant.
A few tactics to scale the readers average time on the website are:
1) Enhance your content with target keywords (On-page and Off-page SEO)
On-Page SEO deals with proper formatting of title, headings, and images which is a crucial step to attract and help people remain glued to the site for the whole content since more the time spent on a page the better it works for you.
Off-Page SEO is an attempt to broaden the visibility of your site by creating links and to authentic your source in the niche. It's like getting a referral from other websites which again promotes trust and a wider presence.
2) Adapt Images and Videos
Visual images and videos are best if appropriately located, sized, and coloured to advantage. For instance, red is the standard colour used for branding whether online or offline due to its knack for attracting the eye. The key takeaway is to strike the right chord for optimum benefit.
3) Learn artistic ways to breakdown the content
The idea is to psychologically make-believe the reader that the content is shorter than what it actually appears to be! You can consider breaking your content with Lists, Interesting Quotes or Graphs, Embedded social media, etc. to captivate the reader's mind without making them feel guilty about time spent.
4) Give users control over their visit
The reason why most of the skimmers hop through the content is that they are unsure of their interest or get judgmental by glancing at two or more points. The best ways to provide the reader with insight into your article without making the eyeballs roll are:
Imitate Wikipedia style table of content
Image-based tabularized content
Links or text-based table of content
4) Branch out your Revenue Stream
You must have heard the common cliché, "Do not keep all eggs in one basket". This old age advice is not just restricted to finances but also business. Judicious investors accept only those risks for which they are compensated for captivating. Diversifying the revenue is the best way to accumulate profit specifically in an uncertain market.
Few methods to branch out your revenue streams in 2021 are:
Branded or sponsored content
Merchandise sales
Direct contracts
Subscription tie-ups or donation built models
Expanding video network
The advantage of investing in ads is if you have evergreen content on your website, you can retain the information on your site for 5 plus years and it can still fetch you revenue.
Ad networks like, VDO.AI guarantees maximum monetarization along with access to leading DSPs and brands who bid for your portfolio via a strategized program to maximize your ROI on every single impression.
Raise the price of your Ad portfolio
Building up the price of your Ad portfolio is directly linked to the monetary worth of the physical Ad space accessible to advertisers on your site.
Few Ads can decline in worth thereby affecting the revenue of your site, for an obvious reason that publishers don't want to pay for ads that are no longer engaging. The foundation behind this ideology is that all customers react differently to the same site.
Few user reactions and ad features that affect the influence of ads on user experience are:
Time and Day of the week user visits
Traffic origin
Scrolling facility and depth
Colour and Dimension of Ads
Type and Location of Ads
Number of ads consumed per page
VDO.AI Ad network can assist you with customized designs to place Ads that deem fit on the web page to carve a professional look and appeals to the user. With AI-driven technology, VDO.AI ensures top-notch creativity in the right context for each user.
Key Takeaways
If you are a novice in this field or struggling with time, publisher platforms like VDO.AI gets the top advertisers to bid for the publishers' inventory via their proprietary supply side platform which is integrated with all leading demand sources. The benefits of such a network are to earn more clicks and tailor-made customized ads.
With the joined hands of market experts and creative heads, building your brand along with monetizing the site will chip your pockets with extra revenue and a happy smile on your face!
Be a part of our extended family and receive product updates, company news and other promotional updates by clicking Subscribe.