MCM set to replace SPM – Implications for publishers
Reading Time:
3
minutes
Google usually makes constant changes to offer a seamless experience for its users. With the AD Tech industry taking a privacy-centric approach, Google has taken a step further towards ensuring a sustainable and safe digital ecosystem by replacing SPM with MCM.
The Multiple Customer Management module will officially replace its Scaled Partner Management (SPM) program for Google AdManager users in mid-2021. After which, all publishers who want their ad inventory to be managed by third parties will require an Ad Manager account registration to ensure a protected digital system.
To let you know each detail that is certain to affect you as a publisher, experts at VDO.AI have discussed everything regarding this new development below.
Scaled Partner Management Program (SPM): Explained
Google Ad Exchange is one of the most prominent source of ad revenue for publishers. However, to be eligible for accessing Google AdX, a publisher needs to have at least around 5 million monthly pageviews and a Google Ad Manager account. The Scaled Partner Management (SPM) program is a method of accessing Ad Exchange for small publishers with less site traffic. I.e., if you do not have a large scale of traffic with its accompanying high number of advertising impressions, you can use larger accounts of Ad Exchange Publishers or channel partners to effectively improve the exposure of your inventory.
The program enables publishers (known as the Child publisher) to access Google AdX through channel partners and large partners (known as the SPM partner or Parent Publisher).
When a publisher opts for a scaled partnership, she gives full ownership and access of the inventory to the parent partner- therefore, the trustworthiness and ability of the parent partner plays a significant role in the inventory's performance.
Why is Google replacing SPM with MCM?
With an aim to aid transparency between child and parent publishers, this initiative will provide better clarity on the authorization level of the partnership between the publishers. MCM doesn't completely replace SPM but instead provides another option for webmasters that want a better grip on their business. The new program also allows publishers to access more demand sources, easily test different providers, and better understand where their ad revenue comes from.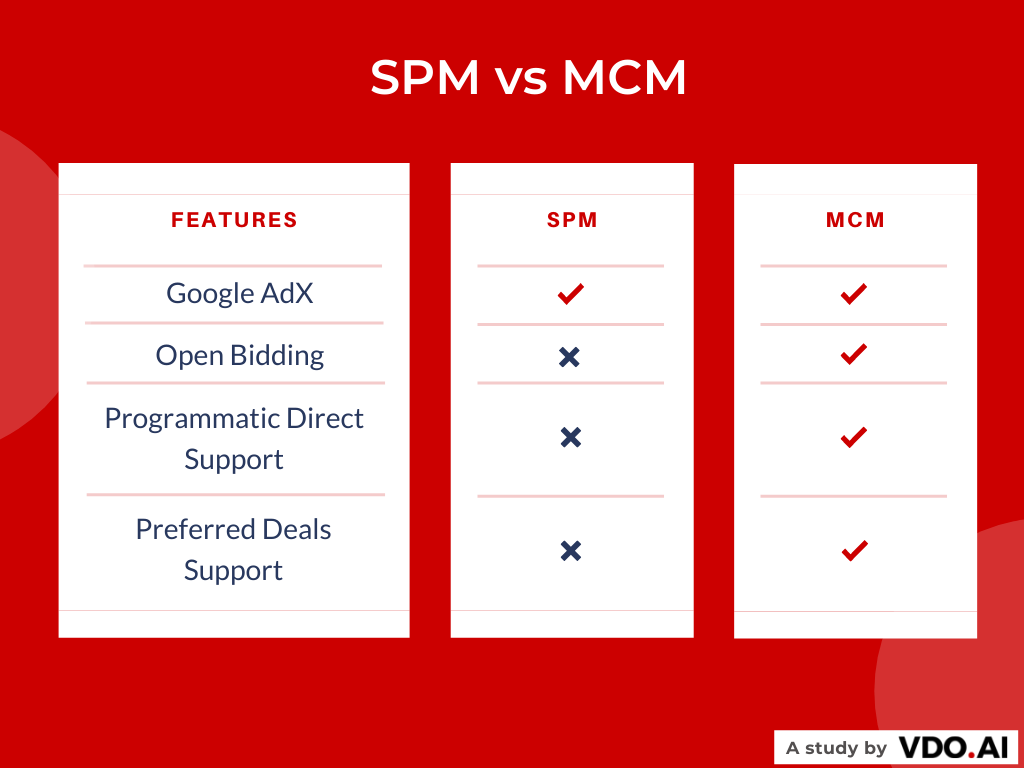 The primary thing that has changed here is the introduction of delegation types for defining the authorization level of the child and parent publishers in a better way. With the introduction of two Delegation types: Manage Inventory and Manage Account, publishers will have greater liberty to choose how they want the partnership to operate.
How can you migrate from SPM to MCM?
Regardless of the type of delegation, joining MCM is based on short and clear instruction and requires minimal involvement of the Publisher – short formalities and simple adjustments in the codes of advertising units. It's as easy as it sounds! Additionally, VDO.AI's publisher network has been provided with a personal Account Manager to make the process hassle-free for publishers.
What Now?
Google Ad Exchange is one of the best demand partners in the programmatic landscape. However, getting access to it is a tedious process. You need hundreds of millions of page impressions, go through a tough review process, and wait for days.
If you are a publisher and need help, feel free to reach out to VDO.AI. We have already assisted around 52% of our publishers on their transition journey and can help you get started with better monetization!