VDO.AI Achieves Google Certified Publisher Partner (GCPP) Status: A New Chapter of Growth Begins
Reading Time:
3
minutes
VDO.AI has become one of the top 10% of the Google Certified Publishing Partners (GCPPs).
This achievement, akin to scaling new heights, has unlocked a promising chapter of growth and expanded opportunities for VDO.AI. For publishers navigating the dynamic landscape of digital advertising, our elevated status as a Google Certified Publisher Partner (GCPP) means they can trust in a proven ally. It's an invitation to embark on a journey where collaboration with VDO.AI translates into a strategic partnership, promising not just growth but a reliable guide through the ever-evolving intricacies of the digital advertising space.
However, to gain the full benefits of a Google Certified Partner, first, you must get the know-how of achieving GCPP status.
Understanding GCPP

Google Certified Publisher Partner (GCPP) is a distinguished certification granted to publishers who meet Google's stringent standards for trust, reliability, and excellence. It serves as a mark of distinction, signifying a publisher's commitment to providing high-quality content and advertising solutions. However, to be certified as a GCPP, a partner must undergo rigorous training and assessments. Afterward, it can be recognized as an exclusive member of third-party experts.
VDO.AI is a Google Certified Publishing Partner, which means we are trusted experts in ad technology, ad revenue growth, setup strategy, and optimization.
Why Collaborate with a GCPP?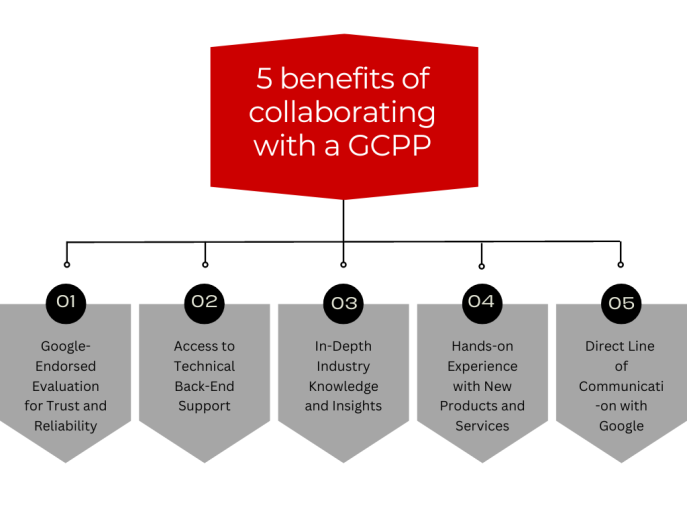 Collaborating with a Google Certified Publisher Partner- VDO.AI comes with a myriad of benefits that can significantly enhance the success of publishers.  Let's explore these key advantages in detail:
Google-Endorsed Evaluation for Trust and Reliability
VDO.AI's newly acquired GCPP status signifies a Google-endorsed evaluation for trust and reliability. So, publishers can trust in the credibility of VDO.AI as a partner that has been rigorously assessed and approved by Google. This endorsement instills confidence, assuring publishers that they are collaborating with a reliable and reputable monetization solution.
Access to Technical Back-End Support
The partnership grants VDO.AI partners exclusive access to enhanced technical back-end support. This support ensures a seamless experience for publishers, offering assistance with troubleshooting, customization, and technical guidance. VDO.AI's commitment to technical excellence, endorsed by Google, means that publishers can rely on robust support to navigate the complexities of digital monetization.
In-Depth Industry Knowledge and Insights
This certification opens the door to up-to-date information on market trends, audience behaviors, and best practices. Publishers collaborating with VDO.AI gain a competitive edge by staying well-informed and aligned with the dynamic landscape of digital publishing.
Hands-on Experience with New Products and Services
The GCPP status offers VDO.AI premium access to new products and services endorsed by Google. This exclusive access allows VDO.AI to gain insights and hands-on experience to help its partners leverage innovative technologies. It reflects VDO.AI's commitment to providing partners with the latest advancements in digital advertising.
Direct Line of Communication with Google
Perhaps, one of the most significant advantages of being a Google Certified Publisher Partner is the direct line of communication with Google. VDO.AI, in its GCPP capacity, establishes a closer relationship with one of the industry's foremost authorities. This ensures that our partners receive timely updates, direct insights, and a deeper understanding of Google's evolving standards and innovations.
Why wait? Partner with a Trusted GCPP!
Becoming a Google Certified Publisher Partner is no small feat. It requires a dedication to excellence, a commitment to adhering to industry-leading practices, along a continuous pursuit of providing top-notch services. Accordingly, VDO.AI has undergone a thorough evaluation by Google, meeting and exceeding the stringent criteria set by the industry giant.
Team up with VDO.AI to unlock Google-supported expertise and resources for better monetization possibilities. Furthermore, expect regular updates on the latest industry trends, exclusive insights into optimizing your ad strategy, and ongoing efforts to enhance the VDO.AI platform based on the latest Google standards.