15 Days Of June | Industrial Changes In Ad Tech
Reading Time:
2
minutes
Over the span of a few months, we have settled into a new lifestyle, a new routine. We have changed the way we work, the way we communicate, and the way we live. In some respects, it feels harder to imagine what it was like before the pandemic hit the world. Safe to say, this has gone longer than any of us anticipated it.
The impact of COVID-19 on economies across the world is evident. It has hit every industry, some more severely than the rest. But advertising is expected to recover and grow in 2021. Programmatic, in particular, is battling its way back to pre-COVID levels.
Key Findings and Observations
We took the numbers from the first two weeks of June 2020, to study the pattern of impressions and eCPMs in eleven verticals. Here are the key findings:
Note: The following graphs are on a relative scale.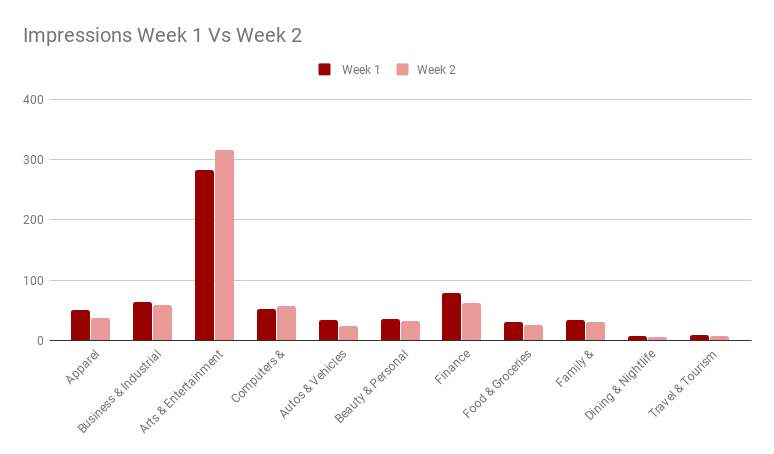 Out of the 11 verticals that we studied in this report, most of them witnessed lower impressions for the ads. However, there are always exceptions. Both the categories of Arts & Entertainment and Computers & Consumer Electronics witnessed a spike of approximately 12% in impressions. And this doesn't come as a surprise because the level of online content consumption has increased significantly since countries went on lockdown and started practicing social distancing.
The rest of the verticals experienced an average fall of 20%. Travel & Tourism remains very low on the bar with no significant change. And a similar pattern is observed in Dining & Nightlife as well. Business and Industrial vertical, on the other hand, didn't leave the game so much as they slowed down and played defense. Experiencing a fall by -7.2%, a change in strategy is anticipated in the coming weeks.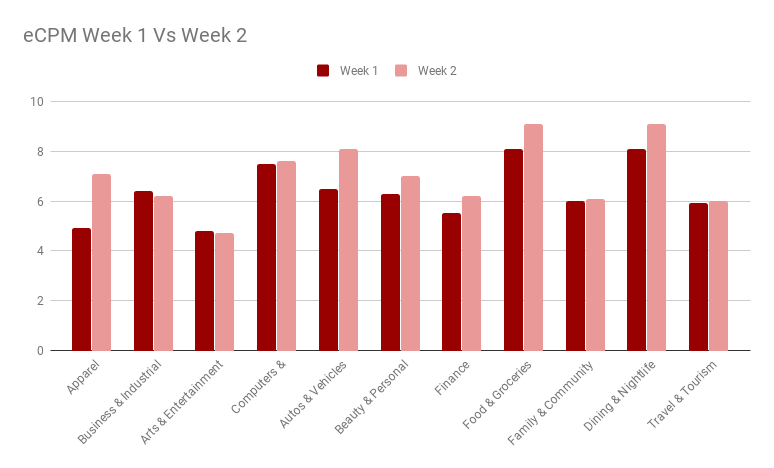 When we talk about the pattern in eCPM, the numbers either experienced growth or remained the same. But there was no fall in the eCPMs within two weeks.
Apparel, in particular, witnessed a significant rise of 44.8%, followed by Autos & Vehicles at 24.6% growth. Verticals such as finance, food & groceries, experienced an average of 12.5% growth.
Travel & Tourism remained the same more or less, with a rise of 1.6%. However, given the circumstances, it is safe to say no other categories will need to advertise to come back more so than travel.
Conclusion
The recovery across various industries continues. These behavioral changes that we have slowly adapted into, shopping online, distance learning, health check-ups from our devices, etc – they are not going away after the impact of COVID subsides.
Hence, it is important for marketers to learn and prepare for the time when these new services, buying modes, and behaviors become a common practice. With a full recovery on the horizon, the numbers for most verticals should experience a spike in the upcoming weeks.