Connected TV- Transforming Data-Driven Advertising
Reading Time:
3
minutes
With the emergence of various digital modes of advertising like CTV and OTT advertising, traditional advertising is lagging behind. As innovation is evolving in technology every passing year, the birth of data-driven TV is paving the way for advertisers to personalize ads and minimize wastage of money. Data-driven advertising has also given advertisers a tremendous opportunity to target audiences precisely at the right place and right context with data-driven strategies.
According to a recent market estimation, advertisers spent roughly 2.14 billion U.S. dollars on addressable TV ads in 2020. They are further expected to increase their spending by some two billion dollars by the end of 2023.
Read through to understand why data is impactful and how can advertisers cope with the data challenges:
CTV as an opportunity in data-driven advertising
Yes, data-driven TV brings enormous opportunities for advertisers to increase targeting, measurement, and optimization in a privacy-centric manner. A 2019 study shows that Addressable TV boosts ad recall by 49% while cutting channel switching in half. As consumers are fragmented, and they use multiple devices to watch videos, addressable advertising helps in targeting the audience with consumer-specific campaigns that save advertisers money by eliminating waste.
Today, most individuals watch the same show through different devices and platforms; with the help of granular data and targeting, you can achieve granular ROAS by customizing advertising. Also, unlocking the data and placing ads after accumulating the first-party and third-party data will help in scaling up the ad results.
In addition, data helps in customer segmentation based upon their age, sex, interests, etc., and enables advertisers to reach a more specified targeted audience. For instance, customer A is interested in food, and customer B is interested in fashion. In that case, customer A will see food-related ads, and customer B will see fashion-related ads even if they watch the same show on their respective devices.
Importance of data analysis
Undoubtedly, better informed, actionable insights gathered from data analysis lead to more efficient real-time decisions. Still, advertisers face several challenges in coping with a data lake and they don't leverage the power of data thoroughly.
A vast amount of data can be a confusing and complex task for many advertisers. Not every advertiser has an expert who can deeply analyze the data and conclude the outcome conveniently. Moreover, advertisers don't grasp the worth of data and how to utilize its power in the maximum way possible.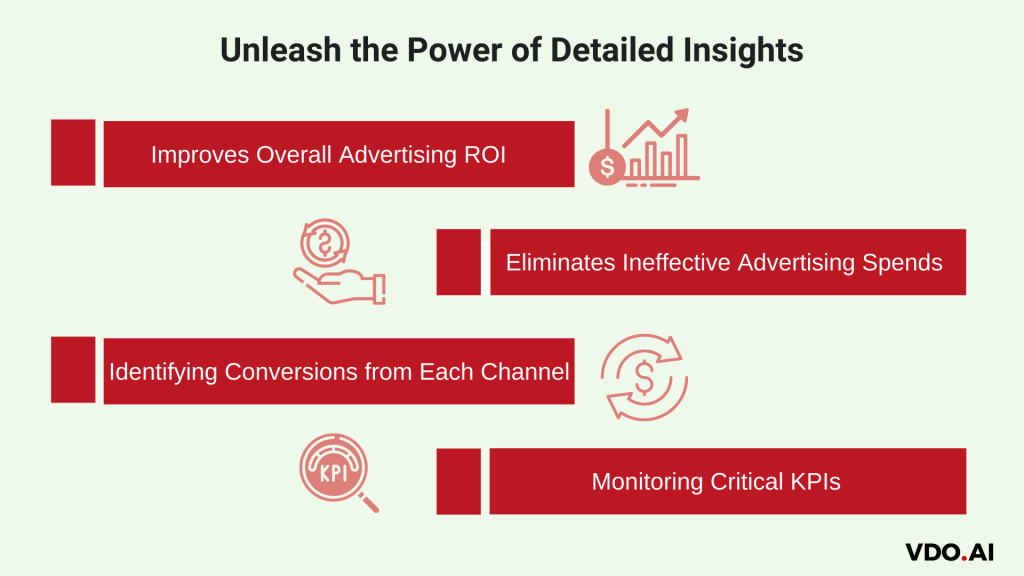 Maximize TV Ad Campaign Results with VDO.AI
With VDO.AI's data-driven insights, advertisers can keep a detailed track of their ad performance, improve their ROI and serve personalized ads based on specific audiences' interests. Furthermore, VDO.AI solutions meet the most stringent consumer data regulations.
"Data is both the present and the future. Detailed analytics gathered through different sources not only help in accelerating your ad reach and overall performance, but also act as a key in achieving your advertisement goals efficiently", says Amitt Kumar, founder- VDO.AI.
VDO.AI Dashboard and Attribution Reports provide holistic insights making it easier for advertisers to understand their audience thoroughly and access their campaign's impact. Here's how-
VDO.AI's unique solutions provide comprehensive insights that help in tracking your ad campaign's contribution in conversion and reach with a bird's eye view. It will also allow you to gain a better understanding of the ROI you'll receive and clarity on how much to invest in the future.
VDO.AI assists in optimizing ad campaigns to attain increased views, clicks, and conversions with its Full Funnel Tailored Solutions and helps in achieving your KPIs.
To sum it up, VDO.AI can help you in unlocking new measurement attribution and targeting opportunities. Go beyond primary metrics to gain a more comprehensive insight into how, when, and where people engage with your ads.
VDO.AI is a one-stop solution for advertisers searching for a helping hand to find the right audience, launch a campaign, and generate actionable insights to level up their campaign strategy.