Global Advertising Future: The Post-Covid Impact
Reading Time:
4
minutes
When Covid-19 hit the market, marketers paused their ongoing advertising strategies and reevaluated their ad spending strategy. In comparison to previous years, the year 2020 – 2021 saw an increase in digital ad spend. The various modifications and amendments in the advertising sector over the previous year have increased the prominence of digital advertising. Read, to know about the global advertising future in the post-covid era.
Within the last several years, there has been a significant shift in advertising strategies and advancements in advertising solutions. Traditional advertising expenditure is dropping, and brands/advertisers are attempting to capture audience attention where they are more readily available.
Read on to know where media consumption is increasing and what global ad spending predicts about the future of media.
Based on Nielsen Ad Intel data, the graph above shows how ad spend has shifted dramatically over the last year. From the last quarter of 2020, you can notice a turning point in ad spending. The graph also depicts how advertising spending climbed in Q4 2020 and subsequently increased even more in Q1 2021. It also shows how ad spending fell in the last three quarters of 2020 but then increased again when the holiday quarter of 2021 (Q4) began.
Ad Spend in CTV/OTT
CTV and OTT viewership is rising year over year, and it is affecting the decisions of advertisers. The change in the advertising industry also accelerated advertisers' spend in Connected T.V. and digital platforms, allowing them to reach audiences where they are and aiding in effective brand building.
According to November 2020 research by the Interactive Advertising Bureau (IAB), 60 percent of marketers have already switched their ad spending from linear to CTV and OTT advertising due to rising viewership on CTV and OTT platforms year over year. Moreover, 78% of people still prefer watching video on TV, and 82% of U.S. households are reachable via a Smart TV or television with an internet connection.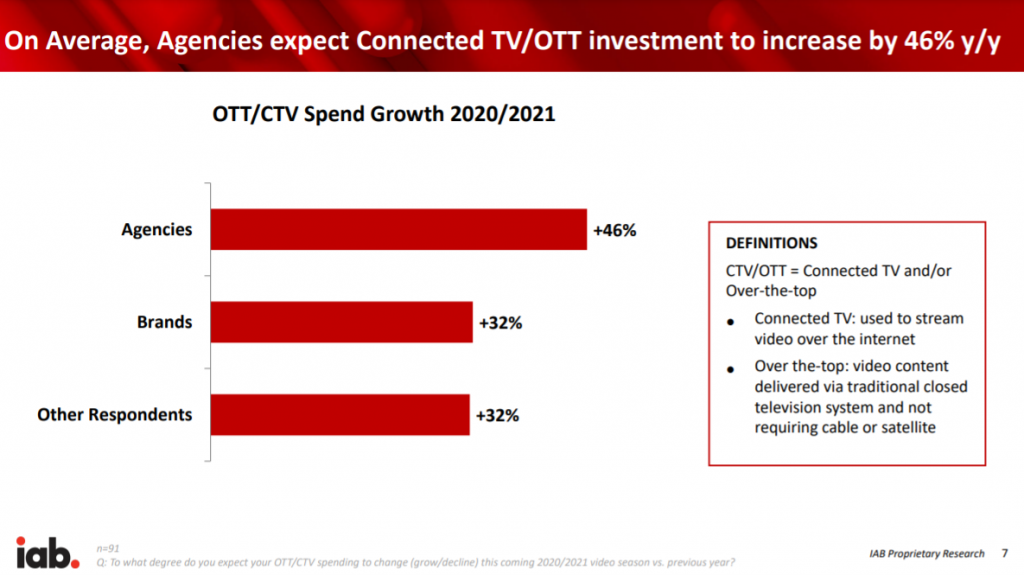 In a recent analysis, IAB labs looked at what agencies, brands, and other respondents expect in terms of OTT/CTV ad spend. According to the graph above, agencies estimate a 46 percent y/y increase in CTV and OTT, while brands and other respondents expect a 32 percent increase.
Digital Ad Spending in the US
To better understand digital ad spending, look at the graphs below showcasing stats from E-marketer research on Digital Ad Spending Worldwide, 2019-2024.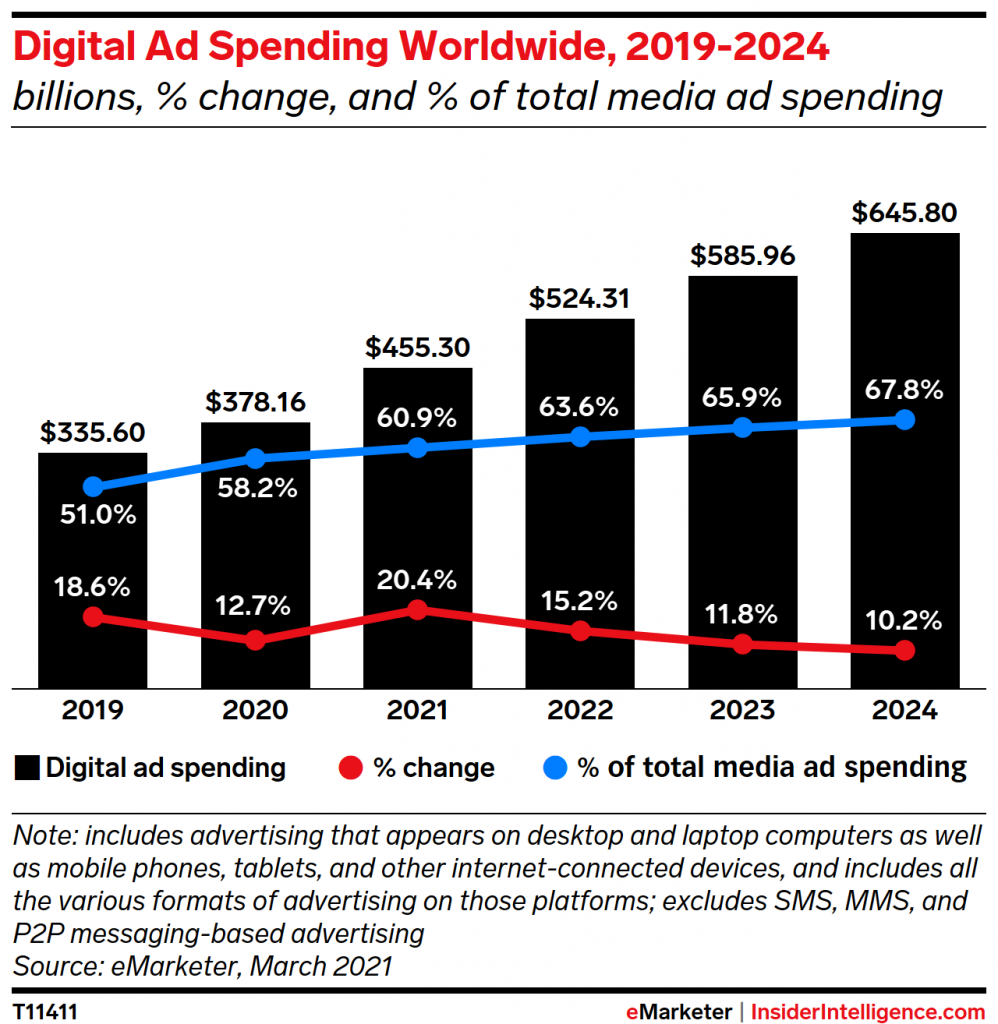 The graph above represents that last year(2020) global digital ad expenditure climbed by 12.7 percent, almost as much as e-marketer predicted before the outbreak (13.6 percent). Digital ad expenditure will rise by 20.4 percent this year as the entire ad industry recovers.
The above graph represents that despite the pandemic, U.S. marketers boosted their expenditure on digital ads by about 15% last year, and growth will accelerate this year as digital ad spending crosses two-thirds of the U.S. ad market.
Moreover, the e-marketer reports predict that as the ad market and larger economy recover from the epidemic, they expect digital ad expenditure in the United States to expand by 25.5 percent this year, the fastest rate since 2018.
Global Advertising Spending and Predictions
In 2020, global digital advertising spending was 378.16 billion dollars, and by the end of 2021, it is expected to be 455.3 billion dollars. – IIDE
The global internet/digital advertising market was valued at $319 billion in 2019 and is predicted to reach $1,089 billion by 2027, with a CAGR of 17.2% from 2020 to 2027.- Global News Wire
Advertisers are increasingly prioritizing video. Over half of ad buyers polled by the IAB stated they planned to increase advertising expenditure on connected TV (CTV), over-the-top video (OTT), and digital video in the second half of 2020. – IAB Research
Final Takeaways
Pandemic has led to faster adoption of digital advertising and CTV advertising. Digital advertising and CTV advertising aren't just a trend in the advertising world; they'll continue to develop in the coming years. TV advertising will not decline, and it will remain the first medium followed by digital advertising. Every year, marketers will spend more on CTV and digital channels. With more money being spent on CTV/OTT and digital platforms, advertisers may focus more on customization and creating more compelling ads. With VDO.AI, advertisers can deliver ads more effectively and provide consumers with a better user experience with VDO.AIs advanced technology.
Technological advancements are inevitable and advertisers need to adopt them in order to reach a wider audience. Therefore, it's important to understand the marketing scenario and adopt the right advertising solutions and strategies according to the audience's movement.