What are DSP and SSP? – A Complete Guide
Reading Time:
3
minutes
It's the era of digital marketing, and marketers of today don't prefer manual solutions. They want to opt for cost-effective solutions and this reason prompts them to employ the power of programmatic advertising platforms. But to reap most of the benefits of automation, advertisers and publishers should stay informed of the common AdTech terms. In this article, VDO.AI discusses 2 important acronyms – DSP and SSP.
If you are a publisher, an advertiser, or new to programmatic- clarifying the confusion regarding DSP and SSP is really vital for you.
Let's fill our knowledge gaps in regards to DSP and SSP and understand the difference between these automated platforms in the simplest terms:
What is DSP?
DSP, or Demand-Side Platform, is a software solution that helps many advertisers, ensuring an efficient buying and selling process of ads at a comparatively cheaper cost than traditional advertising solutions. It is a tool that advertisers use to buy ad spaces from various publishers. Moreover, it also eliminates the human aspect of the process.
It helps advertisers in managing demand during the real-time auction.
Why do you need DSP?
VDO.AI has listed the key benefits any advertiser working with DSP will get access to:
Advertisers get access to real-time insights and avail benefits of the most vital metrics to analyze their campaign performance.
Management is easier with DSP. It makes the process of buying ad inventory from multiple data platforms and exchanges convenient and helps in saving advertisers' time.
DSP allows advertisers to deliver and track their ads for optimization purposes.
Transparent reporting experience enables advertisers to see real-time data regarding their campaigns' performance across multiple advertising inventory sources.
Lower cost and effective budgeting. DSP provides multiple publishing options and thousands of ad placements at once, and at a cheaper cost to the advertisers.
What is SSP?
SSP, or Supply Side Platform, is software that helps web publishers and dealers to sell their multiple ad formats and monetize their advertising catalogue. It strives to sell the publisher's ad inventory at the highest possible price. It helps publishers sell digital ad impressions in automated auctions.
Why do you need SSP?
Working with VDO.AI SSP will get access to the following benefits:
Maximizes publishers' revenue. With the help of SSP, publishers can identify the right and only relevant ad networks.
Provides detailed insights to the publishers regarding the bidding. Insights show inventory in which investors are highly interested, and how much they are buying it.
SSP by connecting to multiple networks and DSP allows advertisers to participate in the real-time bidding process.
All sizes of publishers can use SSP to monetize their websites and apps. Publishers can sell their video and native ad space on both desktop and mobile devices to advertisers.
Selects the most relatable ad with the highest bid. It helps in increasing the impressions and provides the best experience to the visitors that come across your site.
Why is SSP significant for Publishers?
Before SSP, it wasn't possible to maximize revenue and fill in rates through the automation process. But with SSP programmatic solution, publishers now make a stronger relationship with multiple advertisers and reach a large number of buyers. Also, measuring the performance and automation process delivers faster results.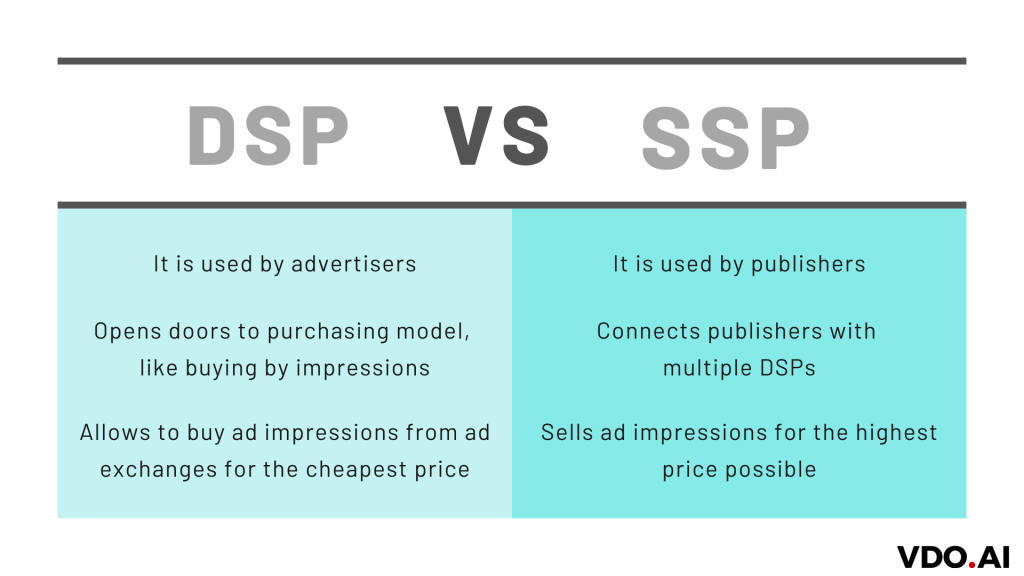 SSP sets a "price floor" that provides a minimum price for each ad space. It also provides an option to change the "price floors" making it more convenient. Furthermore, publishers can control their entire ad inventory from a single, automatic interface.
Automating and Simplifying the AdTech Industry
On one hand, DSP is helping and easing the tasks of advertisers, whereas, on the other hand, SSP is making the publishers' tasks easy. SSP is the inverse of DSP. But both platforms help in eliminating the human factor and make the buying and selling process more pocket-friendly and efficient.
If you are a publisher or an advertiser on a mission to maximize your revenue and reach your goals efficiently, then join hands with VDO.AI. Upgrade your strategies and grow your business with our Creative and Innovative Solutions. Feel free to reach out to VDO.AI to know more.