How VDO.AI Is Encouraging Publishers In Preparation For A Cookieless World
Reading Time:
4
minutes
The internet is a hub of cookies which makes the user experience rich and interactive by remembering their activities and preferences such as language, login details, products added to the shopping cart, sites visited etc.
Cookies help marketers gauge and understand user behavior, preferences to enable effective digital advertising. Despite all the advantages which cookies bring, they also bring a lot of privacy concerns and threats for the user. The Consumer Privacy Acts like GDPR and CCPA ensure that user data tracking is happening with user's consent and transparency.
The users also have raised their concerns, making players like Apple Safari and Mozilla Firefox to already scrap the 3rd party cookies. Google also claims to get rid of these cookies in 2022. We believe that this update will have a positive effect on user's data across the open web. Here's what VDO.AI is doing to support our publisher partners as this new update rolls out soon.
When Is Google Planning To Discard The 3rd Party Cookies?
As reported, Google Chrome will withdraw support for third-party cookies in 2022. Google's Director of Product Management, Ads Privacy and Trust, David Temkin, made the company's position clear today, questioning the viability of Unified ID 2.0 in the Google ecosystem.
"We will not build alternate identifiers to track individuals … nor will we use them in our products."

– David Temkin
How Does A Cookieless World Impact The Publishers?
The impact of scrapping the 3rd party cookies will be reflected in the entire ad space since From the last 2 decades the marketers and advertisers have relied majorly on the 3rd-Party Cookies for various purposes like retargeting, conversion tracking, etc. This has also helped the publishers identify their users to make the user experience better.
Publishers who focused on enhancing user experience were always interested in making the ads contextual, programmatically supported and interactive. Now with the advent of a cookieless world, the SSP and Ad Exchange won't be able to identify users on websites in the same way they can presently.
The way this is going to impact the publishers is summed below:
The publishers won't be able to apply frequency capping on their ads. This will lead to more repeated ads to the users and risk of annoying them.
They won't be able to create an audience list to deliver personalized ads.
Publishers will fail in targeting and re-targeting the audience across the Internet for both digital advertising campaigns and affiliate marketing.
Publishers will have a hard time in measuring the effectiveness of the ads especially cross-device conversions and view-through rate.
What Impacts The User Experience?
Anything that is displayed on your webpage can impact the user experience on your page including text, videos, and images, but also tracking code, ad units — basically any code that is supplied on the browser from your page can impact the user experience.
VDO.AI, like other third parties on publisher websites, impacts the user experience, and user session rate. We acknowledge and realized that this an important update for our publishers and thus, have already started preparing for this new wave.
How Is VDO.AI Preparing For This New Wave?
The entire team at VDO.AI has spent notable time and resources preparing for the onset of a cookieless environment. Moving forward, we're adopting Google's benchmarks in adopting and enhancing the first-party relationships on our ad platform. This will help us to better optimize the overall VDO.AI experience in line with the guidelines.
We have identified areas of improvement and our focus is to optimize publisher's user experience while having minor impact on their revenue/CPM.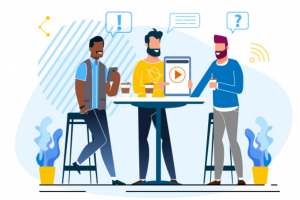 What Are The Changes We Are Adopting?
While there were several solutions that we tested, the one which was the most successful was the use of context to gauge and map numerous audience segments on the open marketplace. These segments will be created using user's first-party data. This is similar to what Google proposed – Federated Learning of Cohorts, which stresses on machine learning to study the browsing habits of groups of similar users.
Additionally, VDO.AI has teamed up with various publishers for second-party data partnerships or alliances. While a lot of the publishers were concerned that sharing their unique data could lead to its exploitation by rivals, VDO.AI ensured that this only leads to cooperation and long term benefits for all. We realized that working together on hubs which collect and share data across domains could be one of the possible ways to compete with Google and Facebook.
Third, VDO.AI has been working with the publishers to adopt a transparent system of data collection and usage. We're checking the ad personalization and data processing settings in your Google Publisher Tags (GPT) and if you're serving non-personalized ads. Publishers can simply do this by using the below command:
googletag.pubads().setRequestNonPersonalizedAds(1)
In addition to the aforementioned solutions and techniques, we are continuously reviewing and developing our features to ensure they are competent with the world without third party cookies, even after the update.
If you're already a VDO.AI partner, and have more questions regarding the above and your VDO.AI integration, we suggest you to reach out to your Account Manager or your VDO.AI Support team.
Be a part of our extended family and receive product updates, company news and other promotional updates by clicking Subscribe.